National School Safety Programme
In June 2011 the Government of Meghalaya approved the National School Safety Programme (NSSP) - A Demonstration Project. This programme is a 100% centrally sponsored scheme being implemented by the National Disaster Management Authority (NDMA) in collaboration with the ministry of Human Resource Development in partnership with the State Governments of the country falling in Seismic Zone 4 & 5 with in a time frame of 24 months.
The main objective of NSSP is to promote a culture of safety in schools by initiating a policy level change, capacity building of officials, teachers, students and other stake holders by undertaking information, education and communication (IEC) activities, promoting non structural mitigation measures and demonstrative structural retrofitting in few schools. The NDMA has selected East Garo Hills & Ri-Bhoi Districts for the implementation of NSSP in the state. These programme districts selected 200 (two hundred) schools each for this programme. A guideline for implementation of this programme has been framed by NDMA. The State Disaster Management Authority has implemented this programme through its Secretariat as the SDMA is notified as the Nodal Agency at the State level for the implementation of this programme by the State Government. The NSSP is required to be tested and validated for its main streaming in the Sarva Shiksha Abihayaan (SSA) for its up scaling and implementation. As this programme is linked with SSA programme close coordination amongst different departments of the State Government with SDMA is required for its successful implementation. The State Executive Committee (SEC) headed by the Chief Secretary will monitor the implementation of NSSP in the State.
2 (two) District Project Coordinator and 1 (one) Accounts Officer has been recruited and they have joined work on 15th January 2013.  Total Funds of Rs.1,78,43,264.00  have been received from National Disaster Management Authority (NDMA), Delhi for the implementation of the programme.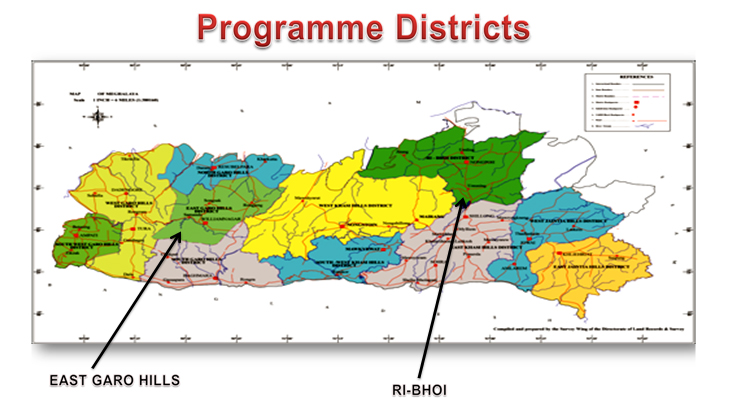 Progress Status under NSSP in Meghalaya
Sl. No
Activities
Targets
Achievement
1.
Preparation of School DM Plan
400
400 Schools have completed
2
Printing of IEC Materials
Total of 46,473 Nos. of Disaster Preparedness Activity books (IEC Materials) have been printed
3
Translation into regional language and Printing of Teachers Training Module
2073 Nos. of Training Modules for Trainers, Teachers and officials has been printed and disbursed in both the districts
4
Training of Trainers
30 Trainers
35 Trainers have been trained in both the Districts
5
Training of Teachers
1000 Teachers
1030 teachers have been trained.
6
Review and approval of School DM Plan prepared by 200 schools in each district
400 Schools
251  School Safety Plans have been reviewed & approved by the DDMAs of both the district
7
Disaster Preparedness Kits in 200 schools  in each district
400 Disaster Preparedness Kits
400 Disaster Preparedness Kits have been supplied to schools in both the districts
8
Mock Drills in 200 schools in each districts
400 schools
Mock Drills have been conducted in 400 schools in both the districts
9
Translation, printing dissemination of IEC material
Total of 46,473 Nos. of Disaster Preparedness Activity books (IEC Materials) have been printed in English, Khasi and Garo languages
10
Sensitization programme at State
1
Sensitization programme at State level was held in the month April 2013
11
Sensitization programme at District level
400 schools
Sensitization programme were held in 400 schools in the 4th week of October
12
Rapid Visual Survey in 200 schools in each district
400 schools
RVS has been conducted in 400 schools in both the districts
13
Non-structural mitigation measures in 200 schools in each district
400 school
Non-structural mitigation will start after RVS is completed in Ri Bhoi District. In East Garo Hills, Funds have been released and Fire Extinguisher is proposed to be given to schools
14
Structural Retrofitting of one school in each district
2 Schools
School for retrofitting has been identified in both the districts. The RVS for both these schools will be forwarded to Geo Hazard so that they can prepare the cost estimate
Two schools were retrofitted under the NSSP , Nongpoh:  Patharkhmah Higher Secondary School, Patharkhmah
Williamnagar: Rongrenggiri Govt. Higher Secondary School, Williamnagar
Outcome of the programme:
NSSP has teach the School Community to
Conduct Regular Mock drills
Students know how to do Drop-Cover-Hold during earthquake.
Prepare School Disaster Management Plan
Prepare an Evacuation Plan
Teachers have the knowledge on basic surviving skills, First aid and Search and Rescue.
Generate awareness amongst the Schools and Community on vulnerability and importance of preparedness.
NSSP has also covered Schools for Differently-abled Students.
Engineers trained under NSSP have also conducted RVS in other Institutions/ Colleges/ Offices / GAD quarters in the District. They also act as Resource persons in other Disaster Management Training programme.
Teachers trained under NSSP have also conducted awareness in their respective villages, help in the preparation of village Plan and also act as Resource person in DM Training.
Schools not covered under the NSSP /Colleges also wanted to be incorporated in NSSP.
Awareness for other departments' e.g conduct of DM exhibitions for School Children.
Realizing the importance of Disaster preparedness. The Master Trainers trained under NSSP from D.I.E.T has also come forward to organized Social Mobilization training programme on Disaster preparedness in 50 villages in the Ri Bhoi District and availed Special scheme from their concerned Department. 
Key learning's
The template for School Plan should also be prepared for smaller schools since there are lower primary, single teacher schools.
Mock drills and School Plans should be made mandatory.
As various schools are constructed without conforming to the standard of construction. Schools should be conforming to the standard of construction including the non-structural aspects of the schools.
This programme should also be extended in the implementing District and other Districts not covered under NSSP. It should also cover the various Colleges and to Teachers training institute.